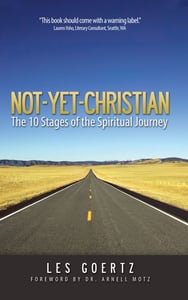 $

24.95
Reasons to read Not-Yet-Christian
1. You lack confidence and feel awkward or guilty about communicating your faith. This book will give you the boost you need to share your faith.
2. You want a fresh approach when talking with family and friends. This book identifies the key stages in the development of a Christian and will equip you with tools.
3. You are not a Christian and are searching about your own spiritual journey. This book explores deep truths about Christianity and the path that Christians walk.
4. You are a Christian worker seeking practical evangelism tools. Les Goertz shares proven techniques that will revolutionize the way you do evangelism.
5. Not-Yet-Christian provides a new process to discover Jesus Christ together so that sharing faith is both enjoyable and effective. If that is your desire, then this book is certainly for you.